Hello...hello...hellooooo! I cannot believe it has been over two months since my last post. Let's see that was back on May 1st and oh wow I was quite busy! I had just finished up a visit with my mom, I was getting ready to graduate( surprise to me, I graduated Magna Cum Laude) and about to leave for my cruise. I cannot believe I have not updated!
My boyfriend A and I cruised to Bermuda, St. Maarten, San Juan and Labadee. I had never cruised before and cannot believe that a year or so prior I was actually considering working on one of these monsters! For those who have never been on a cruise, it is basically a city on water! We ate everything in site and whenever we wanted basically. My favorite thing to eat for breakfast was the tator-tots, an ok version of biscuits and gravy, eggs and bacon.
I was in heaven. Every night you have the option to eat in the formal dining room or the Wind Jammer Cafe which is where you eat throughout the day and is very casual. A and I ate in the formal dining room maybe 3x. We did not care for the people we sat with, we tried but did not work. I had an amazing tan as the sun out there is much stronger.
Bermuda
- The water was sooo cold, let me clarify, colder than I had anticipated. I later found out because it is further north. The beach was beautiful. A was reluctant to get off the ship, he was in a new place and watches too much Locked-up Abroad. So he would have been happy to stay on the ship or be tied to it like a dog. You see I am very adventurous, I want to see everything, be everywhere and just do it. He knew this before we left, as a matter of fact he knew this as soon as I booked the cruise. I laid down the law and he said he was cool. Hmph... : / So yes, yes back to
Bermuda,
she was beautiful. We did not partake in any of the excursions that the cruise line offered. We winged it everywhere we went. Here we bought day passes for the local bus and made our way to Horseshoe Bay.
They drive on the other side of the street here so that was great to experience.
Bermudas
beaches are known for their pink sand. This is due to the coral being tossed all over the place over the years and presto! I did bring a little home, inexpensive
souvenir
. We went to the Maritime Museum and spent a couple of hours there. The water is absolutely beautiful.
Since my favorite color i
s turquoise I was in heaven.
Of course while I was on my cruise I did a lot of gazing out to sea and the water is this amazing blue. When you are out at sea it is this deep navy blue at times, and this other color that I am sure has a name. So while I am taking in all the colors, I am planning my vacation blanket! I see it being a ripple or the catherines wheel stitch. So that is a possibility here in the future. I took countless pictures of the water and its different shades and I have the sand. Yes I did crochet on the boat and yes I did get some looks!
Okay, okay, okay...
St. Maarten
was our second stop and we did some shopping here, saw "The Yoda Guy," and ended it by getting a couple loungers, an umbrella and some beers on the beach! $1.50 beers
made A
extremely happy and I just kept encouraging him to drink, especially since the alcohol was super expensive on the boat. The Yoda Guy know as Nick Maley lives there now and has a small shop/museum.
He was Yodas creator. We walked in and he was the only one in there and never even looked up and said hello or anything. On the beach here the locals walk up and down selling their goods. It was hot and somewhat humid there and trust me wearing jeans or carrying lots of stuff was not in the cards for me!
Here was my view once we made camp!
Did not matter where we were or what new and fun food was around...this is the only thing that made A happy!
I have so much to show still and other things to talk about. I will come back later and talk about the next two ports. However since I have been back I have been crocheting a lot and even started sewing again.
I made a sampler afghan for a dear old friend. Not only was it a great feeling making something new, but the joy you get when you give a gift like that to someone who is not expecting it and hearing their reaction. We all get so busy in our daily lives that we forget that people about those who really care about us. So she called me screaming with JOY!!! It is not the greatest picture but here she is...still waiting for a picture of her with her new owner!
I have even started another one for someone else. I cannot wait to be done, almost there. I swear I have ADHD when it comes to my crafts. I am constantly seeing butterflies. As I mentioned prior, I started sewing again. I love to sew and it has been years. I use to make clothes and what nots all the time. I got into crocheting and sadly never looked back. I am sure that some of you have seen the handmade pillowcases with the crochet edging like this
I have been watching these for awhile and then stumbled across Cassie at
http://www.yougogirl.typepad.com/
. Now both of these women are phenomenal sewers like my grandmother. I wish I could be as good. So anyhoo...I go to craft fairs all the time and never buy anything because I ALWAYS say "I can make that!" I never do, as I have not sewn in over 10 years. So I could have easily made a set of these pillow cases, but I ended up having Cassie make a custom set for me. She is so amazing to work with and she is all about making you happy and nothing is final until you are happy. Let me tell you I am sooooo happy! Here is the picture Cassie took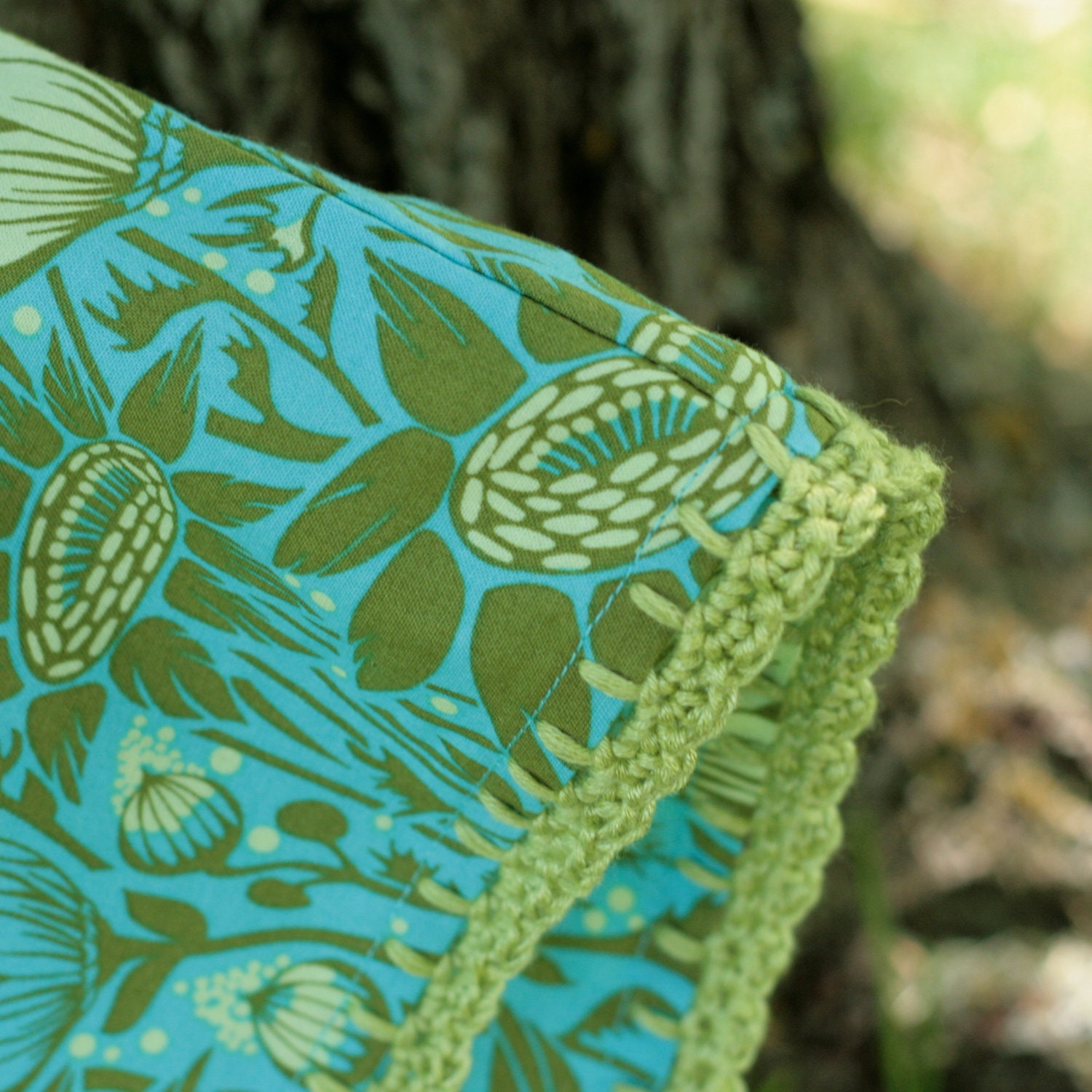 Here she is in her new home and not such good light
She is one of two and just meeting her other life long partner! I thought they looked nice together! I asked Cassie to do this because I did not think I would ever break out my machine since I crochet ALL the time. I felt it was my duty to support my crafty sisters out there! I got them and I had the sudden urge to sew. I went and bought fabric and a few tools since all of it is at my Grams house. I am very slow and so it took me a few hours, yes I said a few maybe more to sew one complete pillowcase. I did it and it looks great, even has a pocket so the pillow does not show and so it will not fall out. I still have to make the other one and crochet the edges. I have multiple patterns for these cases and Cassie even has a tutorial here where she shows you over 4 wks.
Luckily you do not have to wait. You can find the pattern for the pillowcase with the flap on the web in a few places, but she has it all set for ya! For those of you who do not sew, just do it! Contact her or Beata!
Til next time, I promise promise promise to post sooner than soon!